How to Copy and Paste on Procreate [Easiest Way]
Have you been wanting how to copy and paste on Procreate app but haven't been able to figure it out? Procreate is a high-quality device for any creator, illustrator, or inventive hobbyist!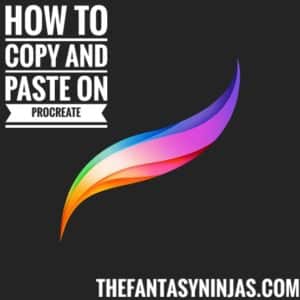 Transitioning from desktop design tools to mobile alternatives might be difficult at times. This is due to the hardware being fundamentally different. When you're new to smartphone software applications, even fundamental operations like copying and pasting might throw you for a loop, especially Procreate for the iPad. You Need to Choose a Right Ipad For Procreate app so that will perform Wisely.
In Procreate, you may copy and paste in three distinct methods.
How to Copy and Paste on Procreate
This may be done with layers, selections, or the entire canvas. If you are genuinely curious how to copy and paste in Procreate, this tutorial will show you just how!
You may also replicate and paste a chosen layer in Procreate by sliding left and pressing the "replicate" option in the layer panel. A layer may also be copied and pasted by selecting paste from the wrench tool menu after pressing the copy button in the layer's properties.
In Procreate, if anyone wishes to copy and paste particular sections of the artwork, pick the objects with the selection criterion, then click copy and paste.
The first and the easiest method is the three-finger copy and paste feature. First, select the test or word or image which is to be copied and pasted. Then take any three fingers and swipe on the screen. Then a menu with many options would appear in which the copy and paste of both options would be available.
Eventually, choose a copy and move it to where you want to paste it. However, in order to use this option in Procreate, you must first choose it in the Copy & Paste part of the gesture controls.
The second approach is copying & pasting a particular piece or word or image in Procreate.
Using the Selection tool, choose a particular attribute from a layer. The Selection device has four alternatives: Automatic, Freehand, Rectangle, and Ellipse.
Use anyone from the four and when you have finished picking the object, you may either utilize the three-finger swipe approach described above, or go to Actions, then to Add and select the Copy or Paste option.
If you want to know how to replicate a layer in Procreate, then follow these steps. Let's glance at copy pasting a whole layer in Procreate now. Moving on to duplicate or copy an entire layer in Procreate.
This will duplicate the layer you've chosen. In Procreate, you may copy and paste a complete layer by right-clicking on it and selecting copy. You may now paste by using the copy/paste shortcut or by heading to actions, then to add and select the paste. 
In Procreate, how can a single element from an existing or new canvas be copied and pasted?
Using the Selection tool again, you may copy and paste a single piece. Proceed to a new and existing canvas once you've chosen and copied the object. Head over to actions, then to add and select the past to a new canvas.
Well, how to copy and paste a layer onto a new or existing canvas in Procreate?
In the layers panel, choose the layer and then click copy. Then, on the existing/new canvas, select actions, then select add and lastly, paste to copy the selected layer to the new canvas.
Finally, in Procreate, learn how to make a color copy. Navigate to gesture recognition and choose the final option in the color picker column. If you touch or hold wherever on the canvas, the color will be picked. In this technique, you may transfer a color from any artwork into Procreate.
Pasting points to bear in Procreate
The pasted layer is always on top of the layer. The pasted layer is automatically on top of the duplicated layer. After pasting a layer in Procreate, that layer has to be shifted to another part of the canvas. You slide it over the canvas just like you'd any other layer.
Layers are the most crucial thing in Procreate. You should be on the layer to manipulate any piece of the layer on the canvas. After duplicating a group, you may navigate it like it was a layer.
When working with lesser layers, the layer surface area may change. One difficulty with moving items about Procreate is that if the object is little, moving it may cause the size of the object to change, i.e., grow larger. 
Wrapping up…
Mastering how to copy and paste in Procreate entails selecting what you want to copy and where you want to paste it. As we've seen in this guide, each has slightly distinct processes.
Once you've mastered these fundamental instructions and can perform all without worrying, utilizing Procreate provides an even more delightful experience.
More from us:
Learn A to Z on Procreate Tutorials . We will help you to be the expert on Procreate.