✅Is Procreate worth buying💲💲💲?
Are you an artist, painter, illustrator, designer, or a creative professional and have been looking for digital tools and a digital medium to expand your work beyond the realms of paper or canvas? Then you must have come across Procreate!
Procreate is a powerful and innovative digital art program/app. It offers creatively inclined professionals, a wide range of unique features, and creative tools to create beautiful works of art and illustrations.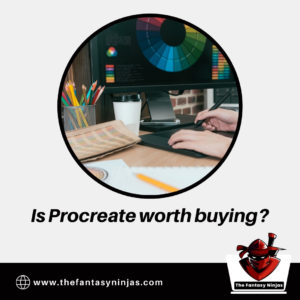 Procreate provides them with a feeling of drawing physically while imbibing the smart benefits of a digital platform. It was created, developed, and launched in the Apple Store by Savage Interactive. It aims to provide creative individuals and professionals with the best application, the most powerful and diverse set of tools and features to produce the best works of art.
It is available for both iPhone and iPad. Having heard and read about Procreate, are you thinking of trying Procreate but are not sure if it is worth the money and time? Are you fascinated by this but do not know what it is best for and how it performs? Well, then you are at the right place!
We will help you decide whether Procreate is worth buying and investing your time, by answering all your questions and addressing your confusions.
What is Procreate?
First up, it is essential to know and understand what Procreate is. As has been written above, Procreate is a digital drawing and art program that features unique and powerful features for you to produce some marvelous pieces of work. Procreate is just like your art studio, packed with amazing features and dynamic tools, which you can carry anywhere and everywhere with you.
Since its inception, Savage Interactive app has revolutionized the way digital art is done and perceived. It gives you the natural feeling of drawing physically but in a digital space. The latest version of the app is around 326 MB in size. It is a paid product, priced at 9.99$ as of now. Let us take a look at the wide range of features, to understand what Procreate has to offer.
Features of Procreate
1. The set of brushes and the countless options it provides is perhaps the most notable feature of this app. It has over 200 unique, handcrafted brushes with over 100 customization options for each of them.
2. Brush Studio is an entire app dedicated to brush-creation, integrated into Procreate. You can create your brushes and even download new ones created by other people. You can also import-export custom Procreate brushes for commercial Purposes. You can even import your favorite brushes from Adobe Photoshop.
3. Procreate provides a variegated range of colors to choose from. Any color you can imagine, you can put it on your paintings. You can assign Colour Dynamics to any brush of your choice. The Colour Harmony provides you with an intuitive interface to help you pick the next color.
4. Procreate provides a smooth workflow and easy navigation. Valkyrie's powerful graphics engine makes your work fast and super-smooth. Ultra High Definition canvases contribute to a seamless experience.
5. With Procreate's Time-Lapse Replay, you do not need any separate program to record your work. It instantly saves your working progress at every single brush stroke so that you can re-watch and relive your journey.
6. The multi-touch gestures make Procreate an excellent platform to create, keeping it simple and interactive. The vastly popular two-finger tap to Undo and three-finger redo adds to the app's elegance. here is how to Do undo and redo in procreate with Easy guide.
7. You can share your creations quite easily. Procreate works with files of multiple formats. It works with JPEG, PNG, PDF, PSD, TIFF, and a host of other file formats. You can export your works in any file format and easily continue working on your personal computers. You Can Also import psd files from procreate to clip studio paint.
Apart from these, Procreate offers you much more. All these features combined, make Procreate a super powerful and 360-degree digital art platform. There are a few things you should know about before deciding on it.
On what devices do Procreate work?
Procreate is specifically designed for iPad Pro. It requires iPadOS 13.2 or a newer version. You cannot run it on Android devices or devices with Google's OS. It is also not compatible with regular iPads with older versions. There is also a Procreate Pocket version, which you can install on your iPhone.
Does Procreate need any device accessories to work?
Technically, the answer to this is no. Procreate has been designed with Touch Technology which features a pressure-sensitive painting that allows you to draw and paint with only your fingers. However, you will get the best performance and experience with a stylus.
Any iPhone-compatible stylus will work fine. But Procreate had been specifically designed keeping in mind the Apple Pencil. For the best results, you would want to use the Apple Pencil.
Is Procreate worth buying:
Is Procreate better than Adobe Illustrator or Adobe Photoshop?
It depends on your purpose of usage. Procreate has been developed keeping in mind, the design and illustration for iPads. It is a powerful digital illustration app. However, Adobe Photoshop is an industry-standard software whose usage spans from digital painting and graphic designing to photo editing and animation. You Can Use the animate feature in procreate And Make beautiful pictures.
While Procreate provides greater ease of use and specializes in digital illustration, its compatibility is limited to Apple devices. On the other hand, Adobe Photoshop is compatible with both Apple and Microsoft devices.
Procreate isn't entirely free from drawbacks. The functions and features that make Procreate fast might make it a bit complex to work on especially, for beginners. Hence, it requires some research before you make full use of this. It lacks colour adjustment for any document as a whole. Also, if you are a fan of working with vector shapes and masks, you would not be able to satisfy yourself completely.
If you are even moderately interested in digital art and looking to expand your foray into illustration, Procreate is worth trying. Considering what Procreate can offer, spending less than 10$ on it, is a pretty low, one-time investment. It is not only a great place for beginners to start their creative journey but also has everything for the most advanced digital artists. If you are a Mac user and have 10$ to spare in return for much more, Procreate is worth buying!