Does Procreate only work on iPads?
Does Procreate only work on iPads: Procreate is a digital tool that has revolutionized digital art and diversified its realms. It updates your creative experience by providing technologically advanced tools while retaining physical comfort and mobility.
Every creative individual such as a designer, painter, and graphic illustrator needs Procreate because of the digitized market. Do you want to use Procreate but not sure what are devices you can run it on? Well, we have got you covered!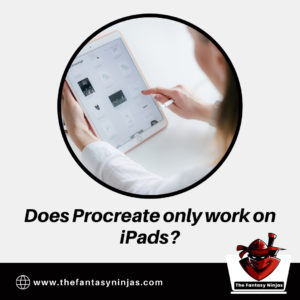 Procreate was created and developed by Savage Interactive. Procreate is just like your art studio, packed with brilliant features and dynamic tools, which you can carry anywhere and everywhere with you! Since its inception, this app has revolutionized how digital art is done and perceived. It aims to provide creative individuals with the best application, loaded with the creative and diverse set of tools and features to produce the best artworks.
Originally it was launched in the Apple Store for iOS users. It is available for both iPhone and iPad. The latest version of this application is 326 MB in size. Procreate is a paid product that costs 9.99$. It is a one-time investment for the users.
Currently, the Procreate app works on the following devices:
| | |
| --- | --- |
| Device | Generation |
| iPad | 3rd, 4th, 5th, 6th, 7th,8th and 9th |
| iPad Pro – 12.9 inch | 1st, 2nd, 3rd,4th and 5th |
| iPad Pro – 11 inch | 1st,2nd and 3rd |
| iPad Pro – 10.5 inches and 9.7 inch | |
| iPad mini | 5th |
| iPad mini 4 | |
| iPad Air 2 | |
Procreate was designed by Savage Interactive for iPad. However, due to an exponential increase in its popularity and demand, it was later launched on the App Store for iOS users.
Does Procreate only work on iPads
The latest version of Procreate for iPad is 5X Patch 5 (5.1.5). It requires an iOS version of 13.2 or newer for it to run. That means that you can install Procreate on all the five models of iPad that are currently available. However, older versions of Procreate will run on iPads with an older version.
Procreate being a multipurpose, powerful app has changed the entire digital art and illustration world. Procreate provides its users with state-of-the-art tools and dynamic options to create brilliant artwork.
The vast array of options and features that it offers is simply unmatched. These reasons can attribute to Procreate's global recognition and growing popularity. In December 2018, Procreate became the best-selling app on the App Store, and since there has been no looking back. You Can Download the procreate app For Windows 10 or more.
Currently, many artists have turned to Procreate globally, and many more are still in the process of switching to this. Due to such massive global usage, Procreate needed to widen its availability and move across platforms.
Based on this, Savage Interactive Pvt Ltd. developed and introduced the Procreate Pocket application for the iPhone. Procreate Pocket is packed with everything Procreate on iPad possesses. You can sketch, paint and create using the same set of features and tools like you could do on the iPad but your iPhone. It has been developed and optimized only for your iPhone.
The app ranks number one in Graphics and Design and has a rating of 3.9 on the App Store. It is priced at $4.99 and is available in the App Store. It has thirteen languages in its database. It is supported by iOS system versions 13.2 and later. It is 320.2 MB in size. It supports family sharing of up to six members. It also can connect with iPod touch with versions 13.2 or later.
Features of Procreate Pocket
Some of the notable features of Procreate Pocket are listed below.
Many exciting sets of brushes. You can also customize your brushes, import, and export from different platforms.
It has two visual modes – Light Mode and Dark Mode. While the Light Mode is ideal when working in a bright environment, the Dark Mode soothes your eyes when you work in low light.
To display only your work, you can connect to a second display via cable or Airplay.
With the help of a time-lapse replay, you can record all your progress and watch them later.
You can import and export your artworks in multiple file formats.
Read this Guide about If You cant import psd files into procreate than Follow this Step by step Guide is troubleshoot your issue.
Besides these, there are several other features in the Procreate Pocket app that are the same as in the Procreate app that makes the Procreate Pocket app look and function exactly like Procreate.
The current version of Procreate Pocket can run on the following iPhone models.
iPhone 12
iPhone 12 mini
iPhone 12 pro
iPhone 12 Pro Max
iPhone 11
iPhone 11 Pro
iPhone 11 Pro Max
iPhone XS Max
iPhone XS
 iPhone XR
 iPhone X
 iPhone 8
 iPhone 8Plus
 iPhone 7
 iPhone 7Plus
 iPhone 6s
 iPhone 6s Plus
 iPhone SE 1st Generation
 iPhone SE 2nd Generation
 iPod Touch 7th Generation
Accessories for iPad to use Procreate/Procreate Pocket
The apple pencil is a reliable investment to add to your iPad. This stylus provides intricate design and precision that our fingers fall short of.
iPad screen protectors are matte in design. They prevent the slipping of the stylus while decreasing glare.
Since Procreate offers many features and styles and can be used to create dynamic and engaging digital illustrations, it is a tool to check out for every digital artist and painter. It is definitely worth the 9.99$ which you have to pay only once.
If you do not have an iPad to work with Procreate, you can always try out the Procreate Pocket in your iPhone just by spending 4.99$ for a single time. It has amalgamated everything that Procreate offers into one, light version for the iPhone.
FAQs on Does Procreate only work on iPads?
Does Procreate work on a subscription basis, or is it a one-time payment?
Procreate does not work on a subscription-based model. You only have to pay $9.99 for it, and you will avail yourself of all the features it has to offer without any additional or hidden costs.
Which iOS versions support Procreate?
The latest versions of Procreate require an iOS version of 13.2 or later. This applies to both iOS versions of iPads and iOS versions of iPhones. Both Procreate and Procreate Pocket support 13.2 iOS versions and later.
Will outdated iOS versions no longer support Procreate?
Devices not running on iOS versions 13.2 or later cannot run the latest versions of Procreate. However, if the device is already running an older version of Procreate, there is no problem.
Is Procreate better than Procreate Pocket?
Procreate Pocket is nothing but a lighter version of Procreate. Procreate runs on iPads while Procreate Pocket runs on iPhones. Except for a few features, both of them are almost identical.
What are the prices of Procreate and Procreate Pocket?
Procreate is available only on compatible iPads and costs $9.99. Procreate Pocket only runs on the compatible models and versions of iPhones and costs $4.99.
After reading this article, you are well aware that Procreate works only on iPads and is version-dependent. Make sure you check out the version of the Procreate you are downloading and the version of the iPad you want to run it on.
Its developers haven't made any version compatible with devices other than the iPad. But, if you have an iPhone and cannot get hold of an iPad, you can always try out the Procreate Pocket app!
More From Us: