Discover the Best Jesus Apps for a Spiritual Boost in 2023
Best Jesus Apps:
By the way, do you have FAITH in God?
So, if you are reading this article, you probably have faith in God like me. And you want to continue showing your faith in God in your day-to-day life such as while sitting on a seat on a train you have faith that you will reach safe and sound. You do not want to miss any chance to show that faith, and connection to God makes your mind relax, isn't it?  Yes? So here the list we have prepared for you, "10 Best Jesus Apps."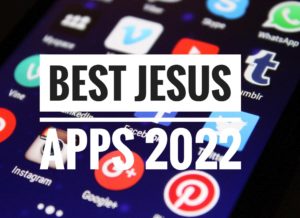 Best Jesus Apps on 2023
YouVersion Bible
YouVersion Bible by Life.Church and would be very much suitable for your Android and IOS. Let us look at the features!
              Features: –
You can use this app in 40+ languages

They have 1400+ versions of the Bible with 1000+ languages

You can read offline

You can listen to the audio online
So, next time when you take the bus or train or any vehicles you travel with, instead of sitting or standing idle, you can download this app and use it. 
Rating: – 4.8 stars out of 5
SermonAudio
SermonAudio by SermonAudio.com is the best option if you want to relax and listen to some beautiful sermons. Let's talk about the features cause' that's important.
              Features
You can filter your search by listening to some specific genre of a sermon, selecting the speaker, or even listen to some featured sermons

They got you covered with both the reading and the audio version

You can also read them offline
There are many types of sermons. So, you can listen to or read anyone. The only thing you have to do is just download it! It has been rated as 4.7 stars out of 5.
              Got Questions?
Got Questions by GotQuestions.org with 4.7 stars out of 5 is suitable for those who got questions regarding God or the spiritual believes or any relevant kinds of stuff. This would be a good fit for both the new believers and the old ones.
They also have an in-built search engine and you can use the bookmark to keep track of your progress.
Daily Audio Bible Mobile App
Daily Audio Bible Mobile App by Daily Audio Bible is a perfect fit for the workaholic people who do not want to lose the leap of faith to God.
              Features
In our daily lives, we have a ton of work to be done and do not get the opportunity to take up a Bible and read it. For that, they created this app. You can do your work while listening to the wise words of the Bible.

It covers Proverbs, Psalms, Old Testament, New Testament, and many similar kinds of stuff. So, go give it a try!
      4.
Storybook Bible for Kids
Storybook Bible for Kids by Life. Church with 4.3 stars out of 5 make sure your little one is also learning from the Bible. It would be fascinating if your little ones also listen to the Bible. It would be hard at the beginning, but with time everything will be in its place.
As it is harder for a toddler to understand the knowledge that is given by the Bible, that is why there is the storybook feature. It will make your little one understands it uniquely with animations and adventures. It is user friendly and interactive, so try it and inspire them.
        5. Verses- Bible Memory
Verses- Bible Memory by Verses make sure that you remember the portions of the Bible uniquely. By reading it daily with its user-friendly interface, it would become easier for you to know the portions of the Bible.
You can also check your progress by taking some memory quizzes and stay motivated by seeing the results. And the hunger to know more really adds up to it. So, to the person on the other side of the screen, try it! Will you?
      6. iDisciple
iDisciple by iDiscipleApp is a great app if you want in-depth information about Jesus and faith
              Features
You can get sermons, music, devotional, and Growth Plan by many special Christian speakers, author, artist, and ministries whenever you feel like

It feels you with information about: –

Leadership

Life Challenges

Individual Productivity

Bible

Toddler or Teen

Marriage

Evangelism

Devotionals

Relationships and many others

Go try it!
 Other apps you might like
              Conclusion
God is always with us; the only thing is the leap of faith. To further your devotions towards God, you can select any one app from the above and start your journey or, if you already have, continue that with more exciting features which will only help YOU! Read more topics about Apps On our Blog.