Best 360 Degree Camera Apps for Android to capture 360° Photos
Best 360 Degree Camera Apps for Android: The World is Round. If the world is round why can't our photos be?
Omnidirectional photos capture your photo from every angle. Full angle photo also called 360° photo. It doesn't leave any site and from. One angle you can look at each angle.
I love to live in a virtual world and make my reality virtual but what if I turn my imagination into reality although it would be a virtual reality I could see it with my eyes. What if there's a way to turn your reality into photographs.
Won't it be amazing? But now you might have this question: what is it?
It is possible that with the help of a 360° camera
You can click amazing photos which will soothe your eyes like a Disney world in reality.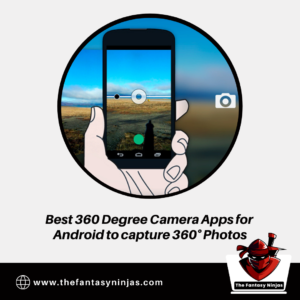 What is a 360° photo?
Also known as VR photographs or virtual reality photographs. It is a 3D panorama that consists of an inch to inch area around you in all directions. and you can have an image. It makes your world go round.
They are used in panoramic photography and Robotics.
So are you a photographer but you don't have that much budget to buy an insta 360 one X or Ricoh theta? You can do it with your phone as the panorama is there you can install those apps which will help you click VR photographs.
Best 360 Degree Camera Apps for Android
Here I have listed down the best 360 degree camera apps.
Fulldive VR – Virtual Reality

It is a 4.1 rating app used for many purposes.
If you want to earn cryptocurrencies and cash and bitcoins with the facility of clicking your pictures at 360° then this app is best for you.
You can watch YouTube videos in VR.
You can explore many panoramic 3D movies And much via this app.
You want to explore the world but this pandemic doesn't let you travel. Don't worry this app will surely help you.
Google has many facilities like maps and of course data and information from all over the world. Let's have a glance at the main features of this app.
It shows street views and connects panoramas from a 360° view.
It also compromises the Photo Spheres as 360° Panoramas.
Help you virtually travel the world with the help of Google maps.
You can explore world Landmarks with this app
You can click photos by your phone's camera without installing any other accessories
Share your photos with the world.
HD Camera- Best filters Cam with Editor and collage.
Everyone is crazy for filters and what's a better combination than filters and 360° photos. This app can do it for you. It has got many amazing filters. If you are a teen and are into photography with filters this app has got features for you.
It has got an HD camera to click your HD snaps.
It is easily controlled with the timer to auto shoot your photographs and for videography
The filters which are present are

Auto
Daylight
Cloudy
Fluorescent
Scenery–
Sports
Night
Sunset
Party

Gyro sensor for 360 panoramic photos.
Camera360 Lite- High Quality & Fast Filter Camera.
What will be the best thing you can ever have if you have a  low storage phone but you love photography and being a middle-class family. You can edit your photo with the help of this app and you won't be facing any space issues too.
Beauty camera with candy selfies and many more stylish filters.

Foodie
Vintage
Lomo
Enhance
Loft
Korean style
Black and white
Sketch
The attractive thing about this is it is a lightweight app with numerous filters.
Nodalview: HDR photo, virtual tour, 360, Video
Are you a real estate agent and you want to please your customer with HD quality photography? It will provide you with all the features you desire.
It is a real estate solution to your photograph as it is composed for real estate sectors. The basic features are

It attracts new customers with professional-quality photos. It's a Photo PRO.
It has an Automatic Exposure Bracketing feature to select pixels under different exposure.
It has a wide-angle photo lens to produce space in cramped rooms.
360 panorama for an immersive experience.
It provides a real estate virtual tour and even
You can promote your property with high-quality real estate video.
Collect – 360° Video OverCapture & Editor.
Life is beautiful and you can make it more beautiful by capturing your moments with the help of this app.
The desired traits are –
Compatibility with equirectangular stitched full spherical footage from 360° cameras as GoPro fusion, Samsung Gear 360, MOTO 360 mod, etc.
It has injected 360 metadata to all the videos which are exported.
Trim and create your own videos, OverCapture, and add effects and music and upload to your social media to become cool.
As we are loquacious we love to chat, you can chat with us.
Panorama 360 Camera: Virtual Tours: 360 Photos
Do you know Phileas Fogg travelled around the world in 80 days? Well if you have the desire to do so then let this app help you.
It captures Non-compass photos
It automatically tags geolocation
Integration of photosphere exports to Teliportme.
It helps you establish business-like shops, travel photography and Real estate
It can connect to Ricoh theta insta 360 and many 360 cameras
It has the feature to explore stories, places and collections
Discover new places via maps.
Can you take a picture of earth with your phone
If not then let's do this with the help of this app.
The main features of this 360 Camera app are:
It is compact and lightweight which helps you capture your moments.
You can transform your reality into virtuality with the help of this app.
You can control your camera with the help of smartphone
The main purpose for this 360 degree camera is photography. It gives a fish-eye view to give creativity to our photo. You can participate in  different contests and win prizes with the help of this high level photography.
Choose your app wisely based on your preferences. And tell us in the comment section which app you liked the most and what are the demerits of the above apps. I am
Signing off for now see you next time with another article.