Must-Have Religious Apps of 2023 to Strengthen Your Faith
Best Religious Apps: We are living in a world of secularity. There are a variety of religions prevailing now. Some of them inherit their religion from birth, while others may have adopted the religion by choice. Each religion has its principles and values, and all the religions have different ways of worshipping, various myths and beliefs. 
People of one community know the ancient stories, teachings, and customs of their particular region. But, at times, you may want to know the stories of other religions too. Will you keep asking for them or hunt down religious books? That seems tiring!
 So, the advancement of technology has brought you the easiest way to know about other religions. These religious apps give you detailed information about the history and practices of various communities. You can access them easily in your preferred language to gain knowledge about different religions.
 Given below are seven religious apps to know about various religions. Each of the apps is easily accessible; you have to install the app and run it. Read along to learn the features of these apps in detail.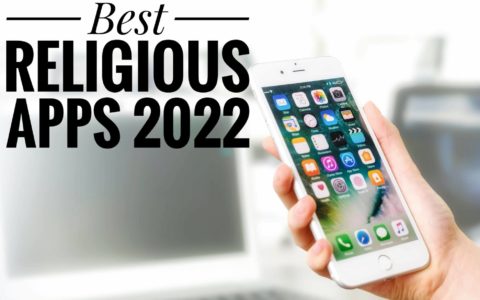 Best Religious Apps 2022
mymandir- No.1 Hindu Dharmik App
The mymandir app is a  popular app for Hinduism, which gives you an overall knowledge of the Hindu community. This app is very famous among people due to its accurate information and easy accessibility. 
You can also get religious photos of gods and their teachings. The app has high ratings of 4.7 stars, with approximately 5 million users. It has a file size of 12M. The app is available in nine different languages like Bengali, Hindi, Gujarati, Telugu, Tamil, Odia, Marathi, Kannada, and Malayalam. You can contact other devotees on the app and share pictures or videos.
Features
The mymandir app gives you high-resolution pictures and videos of gods and goddesses or any other dharmik practices.

You can contact temples located near your house and engage in dharmik activities.

The app provides you with around ten thousand holy songs, artis, bhajans, and dharmik events.

The app gives you a chance to witness the famous temples of India sitting at home.

One can create different communities and groups to share pictures and videos.
Also Read: Best Jesus Apps
Inspirational Bible Quotes 
Do you want wallpapers of inspiring quotes and phrases? Then this app is made for you. The Inspiration Bible Quotes app is one of the highest-rated applications providing you with religious pictures. The app gives you the sayings of the bible in the form of wallpapers. You can use them on your phone or laptop screen. With a wide variety of Christian phrases, this app is rated at 4.6 stars.  It has a file size of 12M.
Features
You can get high-quality pictures of quotes and teachings as wallpapers.

The app gives you offline access to more than two hundred wallpapers.

You can download these pictures and save them on your SD card. These can be used later as your phone and laptop screen. 
Vedic Library: Hindu Puranas, Gita & Spirituality 
The Vedic library app is a vast online library of ancient Hindu books containing all books of Vedic Bharat in complete detail. This app gives you overall knowledge about the holy books of Hinduism and the Puranas in English. It has a vast stock of all the Vedic books and other spiritual texts. The app also allows you to communicate with other people and exchange opinions among them. The app has around 4.7 ratings with 50 thousand downloads. 
Features
The app allows you to discuss your views using the chat features in the app.

The app provides you with accurate and detailed knowledge about the Puranas and Spiritual books.

It has a separate section for quotes and religious sayings. You can install these sayings and store them as pictures and wallpapers.

You can get quotations and sayings from the Mahabharata and Ramayana.
 

God Spiritual & Faith quotes
The God Spiritual and Faith Quotes app give you a vast collection of spiritual quotes and sayings. If you want uplifting quotes, you should check out this app. You can get high-quality images of religious prayers and sayings. The best part is it gives you quotes from various religions or communities. The app has a 4.5-star rating along with 50 thousand installs.
Features
The app gives you English quotes on different moods. You will find sayings to uplift your mood and develop inner strength.
You can get Prayers from the Bible, Lord Buddha, and other communities. It gives you high-quality images of quotes from different religions.
You might want to know the history of other faiths. On this app, you can get the history of every religion in written format. The app gives you accurate knowledge about the ancient stories and the foundation of the culture. You can get facts about various religions and also the prehistoric period. 
Features
The app gives you knowledge about the history of different religions and their foundation.

On the app, you will get comparative studies of different religions and also timelines of religious events.

You can read the ancient stories of various cultures in English both online and offline. 
Faith – Christian Chat App, Prayer & More 
It is one of the most popular apps for Christianity. The speciality of this app is the chatting facilities. It is a social app for Christians where one can connect with like-minded people and exchange their views. You can make friends of your religion on the app and share quotes or sayings. The app is highly rated and has around 50 thousand followers.
Features
The Christian Social App is entirely free for users. It supports all devices without any hassle.

One can contact people of the same mentality and share knowledge.

You can share prayers and sayings of the Christian religion on the app.

The app also allows you to create groups for group chat, and you can also make short videos on it.
On this app, you can practice your religion in the most innovative way. If you fail to know more about your community due to your daily assignments, this app will help you with that in minutes. On this app, you get different games and quizzes to know your religion more. Through these apps, you can practice your community and learn more about its culture. This app mainly focuses on Buddhism. It has a 4.5-star rating and around a hundred followers.
Features
The utility of this app is to help you get knowledge about religion through games.

The app mainly concentrates on the Buddhist religion and its values. 
Conclusion
So, these are some of the religious apps which can help you to learn about different religions. All the apps are highly rated and offer great benefits. With the advancement of technology, learning about any religion is very easy, so you must avail yourself of the opportunity. Hence, download any app and build your knowledge. 
Thanks for reading!