The Best Snapchat Filters You Should Know in 2023
 All Popular Snapchat Filter Names You Should Know in 2023.
 Experiencing moments with Snapchat! 
Well, is there anyone who doesn't love to have fun? I guess of course not, even the nerds have ways to have fun. Yes! your favourite fruit can be cherry not strawberry just like that your way of having fun can differ. But do you know a way to have fun with people via phone or specifically through an app! There is a whole package app for fun, I don't think so I would have to explain everything to you about an all in one extraordinarily fun app named – Snapchat!  But for those who don't know much about it, this article is for you. Stay tuned! Let me tell you the trending Snapchat filters in this article. 
It is a famous entertaining multimedia app used for many purposes like sharing photos, chatting with them, setting your bitmoji, discovering more with videos of others, by clicking photos with numerous filters. So let's explore Snapchat together.
The caramel in five stars: The insight of Snapchat! 
Snapcode- after the age of 13, when you make your id on Snapchat you are basically activating your own QR code. Well not for adding money but to add you as a friend. 
Streaks – Have fun with people you love! Share your moments of the day within 24h to continue the streak with others known as sending a snap. Then snap chat will give you an emoji based on the snap streak and you and your follower have a bond. The no. And emoji will be beside their name in your friends and chat list.
Snapscore- It is the total no. Of streaks, it increases with the videos than the photos.

Astrological compatibility – well not everyone believes in astrology but those who do Snapchat have this feature that helps you know about the astrological profile of someone else by their birth date. It is given besides the snap streak 
Maps – know the location of your friends and let others know your location. You can add a story normally and on your map too. So that when they touch it shows your story. 
Bitmoji – you can set your bitmoji. Decorate and make it wear clothes just like you. It will help others to know your personality. There are many things you can ad clothes, makeup, accessories, etc
Cameos- These are the mixture of your photo with emojis,  gif and texts.  It also adds gifs with your friends too. 
Filters – They are the icing on your cake. Snapchat is all about photos and filters. Well, it edits your photo and now let me provide you with a

Snapchat filters list. 
So many filters in a small amount. It is really like a Five star! 
Wear your filter! 
Nowadays, it's becoming a trend among most teens that filters are mandatory. They won't click a photo without filters. Well, most girls are like that self-obsessed about their looks! No offence but these teens will one day be wearing the least clothes but the photo will still have a filter. Typical teens but they are the reason it these trending filters. And of course, it's not harming anyone. You don't like to eat bananas doesn't mean nobody should like them. I will stop trolling and start telling now So let's talk about the most popular filters of Snapchat. 
You can add many features to your Snap.
Emoji stickers location mention etc. Explore more with snapchat.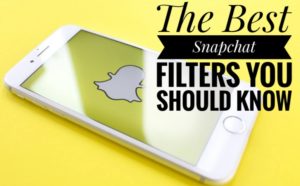 Let me first categorise you the types of filters in snap chat.
you wanna flaunt about the destination. Let snapchat do that for you while you enjoy your vacation. As you permit Snapchat to enable your location then you can add this filter by swiping left to add your location, time etc. 
Factors of geofilters- 
Location – it detects where you are! 
Time and date – it shows the date and time too. 
Temperature – Check the temperature with the help of Snapchat. 
Speed – while travelling show the speed at which you are going to any destination. 
Tones- Different tones at a different location depending on the place you are in like a movie theatre. It changes to black and white, sepia and others. Well also known as Default filters.
These are the recent filters that come up when you add any snap and swipe to add filters without any emoji. You can create your filters too. 
Altitude Overlay- like the speed filter it shows you at what height you are 
Brighten – It brightens your photo! It adds light to your darkness. 
Speed Overlay (MPH or KPH) – it helps your video to speed up or slow down. It is for the slow-motion video you wanna make or you want to add time-lapse to your video.

Speed Up 

Slow-speed

SuperSpeed 

Reverse
Colours filters – They add a little coloured effect in your snap photo or selfie. 

Sepia  – it adds a brownish effect to your photo.

High Contrast – It enhances the contrast to your photo.

Black and White- let you go colourless. 

Neon- neon lightning effect on your photo. 

Special occasions – These filters are added to festivals or special days. Like recently Navratri and Ramadan passed by. Unfortunately couldn't gather a photo of it.
These are the filters that capture your moments. Whether you are eating watching a movie it automatically gives you suggestions and then you have to use them as per your choice
Lens –

I cannot enumerate the no. Of lenses, snapchat have provided but based on my preferences and some categories they can be distinguished 
So here are some categories in the lenses.  
When you browse the lenses there are 5 main categories –
More than a woman by beegee
This filter has music and the ray of lights are moving in circles and it looks beautiful you must try this out for your video. 
Aesthetics tweet by harry 
 It is a filter with tweets you can add your tweet to your photo and looks amazing. 
This filter helps in finding the quote that best suits you on your photo with your signature too. If you are a writer you must use it and poetic by Harry 
This filter changes the illustrations on your photo. It adds a drawing type symbol that looks good. It is an overlay of the drawing 
You can get more filters like these. 
Lights around by Apurv Prajapati
This filter helps you to add lights to your photo. Decorate your photo with the help of this.
This filter adds a bluish colour to your photo. It has additional features of adding date and time to our snap. 
You can browse different filters and use them as per your choice because listing all would be difficult. 
Day vibes by Tarjot Singh
This filter is for those who love to vibes. It has the feature of telling about the day and temperature to set in the vibes. 
 

Urdu quotes teal by aazeem
It lets your photo convert in a day and light moreover you have to make a video. And the aura changes. It is a good shade effect you can add to your video. 
Polaroid by Harsh bardolia

The world is upside down. And this filter will show this to you. The image which occurs in the box is upside down outside it. It also tells the date on which the photo is taken. 
Time flies by Dharma productions. 
It consists of a written quote "Time flies but memories are forever" Snapchat doesn't leave a chance to motivate us. It shows the time on the bottom with a black and white effect. 
For more, you can go on snapchat and explore! 
Let snapchat discover the foodie in you – 
There are some filters based on the foods
Let filters savour the delicacy of you. Well, I don't wanna troll again but ever wonder about someone as a portion of food and you just wanna eat them. There might be some who may have had this thought Hypothetically and it is now available virtually to add food on their faces and see the magic! 
Arby's mozz by Ethan donahue – It adds a face to your French fry.   

Foodie mood by shreyanshi humane – Craving something and until zomato sends you your order what to do? You can just tap on the filter and it will slideshow a variety of food and you can choose what to order based on it.
Noodle blush by kira 
What happens when you have noodles on your plate and how do you look when you blush with the content you feel? This filter depicts it. 
You can search foodie in the search bar and then it will suggest you a great no. Of filters. 
You wanna explore the whole world sitting in one place. Let snapchat filter do this for you. This category takes you the places you may have never been to. Let me show you some examples. Mostly videos are theere so I will enlist the name 
These are the names under these you can open and try your filter. 
Do you love listening to music and add filter 
Go ahead and explore these filters with Snapchat. 
Face –

looking for funny filters to tease your friends on their birthday and else. Look at these filters which will make you go laugh. 
You love animals but zoophobia hits you when near them  but well these filters will help you click photos with animals so here are some filters with animals
Dancing bunny –

In this, you can add your photo in the bunny costume.
And many more……  
CONCLUSION
The bottom line is that the world loves to copy. Just like snapchat there are trending filters on instagram too. Snapchat is adding new filters almost every day if you wanna save your favourite filter you can create your own but it's not free. You can save your snaps too in the memories. Everything goes smoothly. 
Which is the best filter based on your preferences? Comment down we would love to know. Anything else you wanna know about Snapchat and its world of filters you can ask us in the comment section.