5 Best Procreate Eye Stamps for Digital Portraits
5 Best Procreate Eye Stamps for Digital Portraits: Do you have a hard time drawing faces in your illustrations? Ever imagined a beautiful set of eyes for your portrait, only for it to look like a zombie on the screen? We all have. Fortunately, procreate is here to help us out.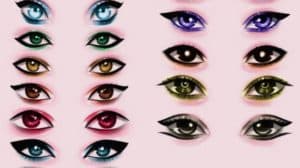 Procreate gives you the symmetry tool to make matching eyes on both sides of the face and many, many brushes to draw gorgeous irises, lashes, eyebrows, everything. But what if I told you there's something that will let you draw eyes in one single tap of your digital pencil. No, I'm not kidding. Do you want to know what it is? STAMPS!
Stamps are here to make your digital portraits look stunning while reducing a lot of your work! Let's get started with the five best Procreate eye stamps for more accessible digital portraits.
Best Procreate Eye Stamps for Digital Portraits 2022
Let's kick things off with a free pack. If you don't love free, you are spoiled. And that's a fact. This stamp is an excellent choice for designing your character's eyes while playing around with your creative self.
You get your standard irises, alright, but where's the fun in that. So, this pack offers you drumroll, please…………… cat irises, heart irises, and mystic irises! Play.
Here's everything available in the Free Eye Stamp Pack:
Six eye iris stamps

One eyelash brush
Not many packs have detailed options for irises, so you can combine this free pack with any face-building bags mentioned below to create a detailed digital portrait..
Click here and take a look at the Free Eye Stamp Pack!
This pack does not give you stamps for the whole eye like the previous one. Instead, you get different brushes made for other parts of the eye, like the iris, pupil, veins, and lashes. You'll have to work a bit on this stamp- no more than a few more taps- but the result will look realistic and worth the effort.
Apart from all this, you get some sparkly brushes to bring light to the eyes of your character!
The Procreate Eye Brushes bundle includes:
4 Iris brushes – For accessible iris details and texture

Pupil brush

Veins brush – Create the most realistic looking veins

Eye shadow brush – Paint colorful eyeshadow

2 Sparkly brushes and 1 Highlight brush

Lashes brush – For perfect lashes

2 Skin texture brushes

Skin lighter brush
This is an affordable set you can use to voice out your creativity. After all, it's all in the eyes. Isn't it?
Click here to take a look at the Procreate Eye Brushes pack!
Portrait Toolkit [also works with Photoshop, Illustrator, and Affinity]
We've already established that it is challenging to draw eyes. But the sad truth: it's not easy to remove any part of your character's face. Portrait Toolkit provides all that you need to make it easy. Stamps for eyes, nose, ears, mouth, head, skin. All of it!
Here's everything available in the Portrait Toolkit for Procreate:
20 eye stamp bushes

20 headstamp brushes

20 mouth stamp brushes

20 nose stamp brushes

20 ear stamp brushes

Two skin tone palettes

PDF reference guide and PDF version of all meetings for analog drawing
With 20 different options for all the parts, you can make 3,200,000 combinations on your digital portraits, with no risk of them looking the same. If that does not scream VALUE, I don't know what does.
Click here to take a look at the Portrait Toolkit for Procreate!
This Ultimate Portrait Bundle for Procreate is quite similar to the one discussed above but with some extra stuff. You get your heads, noses, ears, eyes, mouths, skin, and you also get hair and eyelash brushes! So, you can say goodbye to your hand-drawn zombie portraits.
The Ultimate Portrait Bundle includes:
81 facial feature brushes

20 texture brushes

Four template files (front, profile, 3/4, colors)

Three comprehensive tutorials (1h+)

Four bonus color palettes
This bundle does not only give eye stamps but so much more. You also get some valuable brushes for hair and skin. And on top of all that, you get tutorials on how to make the best digital portrait out of all these Procreate stamps!
 The list of 5 best Procreate eye stamps for digital portraits is incomplete without one of Procreate's most popular artist: Art with Flo! You should check out her works ASAP! Her art will inspire anyone to get out their artist's block, and her tutorials will help you start or master your way in Procreate.
Build a Face Brush Pack by Art with Flo will not fail! It's a beautiful collection of eye stamps, including face stamps, that will save your time and give you precisely what you need.
Compared to the ones we've talked about, this set is affordable, with fewer options to choose from while maintaining its quality. If you are only a beginner and don't want to spend too much and be confused about the choices, this is for you!
Here's everything available in the Build a Face Brush Set:
Three base heads

Seven pairs of eyes

Five eyebrows

Six noses

Seven lips

Three pairs of ears
This is a cute little set to get you started with Procreate and put together a striking character.
Click here to look at the Build a Face Brush Set here!
And that's all for your 5 Best Procreate Eye Stamps for Easier Digital Portraits. Always remember, do not get overwhelmed or confused with too many stamp options. Decide what you want and hold on to that. Now, buy whatever you like from the list above, get your iPad, your digital pencil and start Procreating! And say goodbye to zombies' faces!