✅How to Setup Google Home Mini with Step by Step
Do you wish to trendset yourselves with smart speakers? Want to make tasks easier? Handle your work at the tip of your fingers by only speaking. The giant search engine named Google, shelters this
Google home
. Feed this with an internet connection and enjoy interaction to halt your worries.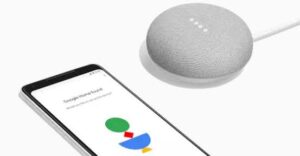 Google Home works as a virtual assistant for Google which gets activated with incoming voice when connected. You can say that it has virtual ears which listen to its environment and responds only after using the wake word. Speak these wake words "Ok Google" or "Hey Google" when you want it to perform any task.
Blend the aesthetics of your workplace or house with Google home which can perform any task from controlling the lights, booking tickets for trains, movies, and many more.
Attributes of Google Home Mini
:
Broadcasting

: Accomplish your work from any corner of the house by broadcasting your message directly. In case if multiple smart speakers are installed in your house then announce Google Home so that it would play on all the speakers connected. 
Recipe Assistance:

Allow Google home to lead you while cooking for pleasure. Now, leave turning pages from your cookbook and get step-by-step assistance. 
Calling:

When your hands are at work and you need to make an urgent call, arouse this and have a contactless call.
Multiple Commands:

Try demanding two works from the smart speaker and you will be astonished to see the results in the same order.
Night Mode:

It understands the time of the day and lowers its voice while streaming music and doing other works. 
Routines:

Customise your routine with Google home. Familiarise it with a set of instructions and it would notify you regarding the time, news, and your work. Set up communication to reap the benefits off.
Ways to set up Google Home Mini
Do you find it difficult to set up a smart speaker? Here is the solution to your problem. Set up the Google Home Mini with ease by following the steps provided below. 
Plugin :
Firstly connect the Google Home Mini to a wall power outlet, and check whether the light is blinking on the device.

This means that the device is now searching for a connection.
Download Google Home app
1. install the Google Home application on your phone from
Google Play
Store for Android devices. 2. Give your acceptance to all the required entities. 3. Turn on the location as Google needs the information of your whereabouts. 4. Ensure that you have a good Wi-Fi connection as the information will be passed from your phone to Google Home.
To experience all the features, use your Google account to sign in with the application.

A Gmail address would serve the best for this.
Do not allow email notifications
Spam may enter into your account, to avoid this disconnect from email.
Once you set up your location, Google Home Mini will notify you regarding the weather, temperature of your locality.

You would see an option named "setup" that is used to create settings, in the upper right corner of the home page.
 

Connect music service

YouTube, Google Play Music, Pandora, and Spotify are the services that Google Home Mini supports. 
Create a premium account on the above programs to enjoy its full potential. Google Home Mini can play any song at your appeal.
To add more attributes, go to the icons button and select the option "More".

Every feature would keep you entertained.
Change what the speaker calls you
You can also add your name or nickname to the settings. 

Simply instruct your Google assistant to do so.
Run lights, fans, and other electronic devices that are connected to the same Wi-Fi connection as that of Google Home Mini just buy a speech.

To achieve this, head to the "home control" option.
Now you are all set to gain benefits from the Google Home Mini. Now plan your journey over the moon. 
More things to set up
You are done with basic settings but there are a few more things that you need to position up.
Voice match:

This device can identify the voice and keep the results personalized.
Voice of assistant:

You can choose any voice for your assistant from the options provided, depending upon the language and accent used.
Video services

: You can play any movie on a device through some application and use the Google Home Mini for voice command.
Voice Calls:

Employ the Google duo to make voice calls to the next person you want to talk with.
Here are some optional setups:
Adding payment mode

: This is useful when you're about to buy something online and need a payment mode.
Music playback:

This plays music from the device through connected services.
Set up Google Home mini without Wi-Fi connectivity
There are two ways to do this:
 With the help of hotspot and mobile data.

With the help of inbuilt Bluetooth.
Using mobile data and hotspot
You shall require two mobile devices for setting the Google Home Mini.
Allow hotspot from the first one and connect this to the second device or tablet.
Then install the Google Home app on the second device as given above.

You can play music and movies using Google assistant.

The first device is providing you with the required internet connection.
Using Bluetooth
Go to the option of settings available in the Google Home application.
Enable your Bluetooth and choose the paired Bluetooth devices.
Allow the pairing mode.
You will see the Google Home device is ready to be paired.
Connect this and utilize it to its maximum potential.
In a nutshell, you will have to just find a wall outlet for plugging in and then install the Google home application in your phone to create settings according to your obligations, then chill out to blow away the cobwebs. You can download Google Home app for PC. If this solution helped you then do like and share the writings.