How to screenshot Snapchat without them knowing – 2023 Updated
How to screenshot Snapchat without them knowing? Coding world of Snapchat : Are you someone who loves to keep a record of chats and photos of other people? Do you love to re-read the conversation with your favourite people?
Well, Snapchat is known as the best multimedia app for sharing moments and chatting, etc. But everything has got a loophole like you cannot have access to the snaps again once you view it or replay it will vanish.
 It is complicated isn't it and especially if it seems like your girlfriend. Simple on the out and tricky on the inside. Just like Snapchat symbols and icons and the whole Snapchat itself. If you understand them well and good, easy peasy! 
If not well confusions begin!  
Snapchat notifies you of everything, it's like a crazy girlfriend who doesn't stop pinging and sometimes you get irritated if you can't understand her. Well, I can't explain her to you but I can make you understand the Snapchat symbols.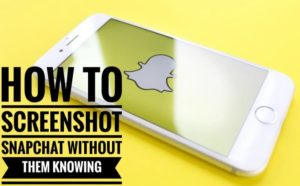 Let's talk about the Snapchat Friend emoji first 
Gold heart

💛 –

This indicates that you have sent the most snaps back and forth with the person and have chatted the most with them. You are my #1 best friends.

Red Heart

❤️ – This shows that you're #1 best friends for two weeks.

Pink heart

💕 – This depicts that you're #1 best friend for two months. 

Grimacing face

😬 It just shows that you don't talk but just send snaps back and forth. 

Smiling face

😊 This shows that you are best friend but not #1 best friend and this can be in front of up to 8 people you share messages and snap to. 

Sunglass Face

😎 This indicates that you have a friend in common so it shares a best friend with you. 

Fire

🔥- This depicts the no. Of snap streak. You have sent snaps back and forth consecutively and if someone doesn't it breaks and starts afresh again. 

Hourglass

⏳- It tells you that your snap streak is going to break it asks you to send a snap ASAP.
Go to your snapchat and have a glance at who is your best friend and who is your common friend. Which emoji is allotted to whom. 
Snapchat has got various colours and icons each having a specific function. These colour-coded icons tell the status of the message without opening them. 
– This depicts that the snap which is sent does not have any audio. 
– This depicts that the snap contains audio 
Friends, be aware of using headphones while opening it hahaha!! 
– This appears when you haven't accepted the friend request or vice versa 
When a snap is opened without audio them this symbol appears 
When a snap is opened with audio. 
When a chat is opened 
Unopened snaps with audio
When you have an unopened chat 
When you have unopened snaps without audio. 
They have viewed your snap without audio 
When a pending snap or chat have expired
The snaps with audio have been viewed by them. 
They have viewed your chat. 
The snap which consisted of audio was replayed 
The snap which didn't have any audio was replayed. 
A Screenshot has been taken of your Snap without audio. 
A Screenshot Has been taken off your snap with audio. 
They took a screenshot of your chat 
  Source- screenshot has been taken by me
These are some colour codes of Snapchat. 
You can avoid it if you don't want the screenshot icon to occur on your friend's phone then you can follow these tactics. 
Now I would tell you about how to take secret screenshots on Snapchat? 
Screen recording option! 
If you are an iPhone user you would have to add this feature to your control panel. 
You will be able to see many functionalities an iPhone can perform. Then as you see the screen recording option touch this and then a small red 🔴 will come at the bottom of your screen you can start it and play your snap it will record your screen. 
You can also screen mirror your screen on the Mac to take a screenshot of whatever you want to 
If you have an Android phone the screen recording option is given on the control panel which is seen when you pull your screen up to down. Tap on the screen record and shoot your snap. Start and snap it accordingly. 
Source – screenshot was taken by me 
Airplane mode – A Frugal innovation
! 
Innovations are creations! Whether it is a frugal one or an excellent one. So as you know  India is the best known for frugality this is another innovative idea. So you can take a screenshot on your phone while your Airplane mode is on and it won't tell the person.
Open your Snapchat when your data connection is ON and wait for some time to let your snap or chat load. 

Then turn ON your Airplane mode and again wait for some time. 

Then if you have a miui phone swipe your three fingers upside down to take a screenshot. Easy peasy! If not there then have a glance at your control panel the option is there. 

Then remove your snap chat running in the background to remove the data. 

Then relax and turn Off the Airplane mode.

You can smile now the screenshot is taken without pinging them that you have taken a screenshot of a chat/Snap. 
Shoot it on Another phone!
With the help of another device, you can capture it. This is the easiest way to get the desired screenshot and of course, nobody will know that you have done it. 
You can also screen the mirror on your Android to TV and then record the video or capture the picture.
Google Assistant – your PA 
Google Assistant will help you to take a screenshot without them knowing. 
Open your Snapchat 

Open the snap whose screenshot you wanna take 

Say ok google and Google Assistant will ask you what it can do for you. 

You have to command it to take a screenshot and it will do it for you. 

This is taken by Google not you so it won't be notified. 
Source – screenshot by me.
Third-Party Apps 
As you download this App on your phone and after opening it you will have various options available on your screen

Screenshot, Screen recording, Burst screenshot, and integrated

Open Snapchat and the required Snap you want to save. 

Tap on the SnapSaver camera icon occurring on the screen. 

It will take a screenshot without notifying the person.
Add your Snapchat details after installing this app on your phone 

It will not ask you to go to Snapchat and then take a screenshot instead all the stories and dm's will be available on this app.

You can take a screenshot or download the snap whatever you want.

It won't be notified on the person's Snap.
 There are many apps that you can download from Playstore to save Snapchat snaps. 
Private screenshots

by Shaman Land
Chat apps cannot detect your screenshot; you can download it from here. 
Save story

–  simple and elegant best app for screenshot/screen recording.

Download

the app from here.

Shot saver

– be anonymous and take a screenshot of your snap.

Download

the app from here. 

Screenshot without them knowing

– Without any annoying notifications you can take burst mode screenshots with this app. You can download this app. 

SnapSaver

.  It saves your snap and you can

Download

this app from here. 

SnapGrab-

Private Screenshot tool with encryption – Hidden encrypted screenshots with this tool present in this app.

Download

this app from here.

SnapSave Pro

– Save all social status in a snap. It saves all your status and photos from social media like Snapchat.

Download

your app and have fun. 

Snapmod-

Better screenshot mockup generator.  Add your screenshots into the device frame

Download

your app and enjoy! 
Choose your app wisely and accordingly on which features you like the most. 
QuickTime for iPhone users
If you have an iPhone then you can connect it to your MacBook using your cable.
Install QuickTime player App.
There will be a file menu in which you have to select the New movie recording option. 
There will be a small arrow and then as you choose your iPhone as movie recording input screen mirroring will take place. And then click on the record button after you open your snap that you want to record. 
CONCLUSIONS
No more worries with vanishing snaps and chats you can chill and take a screenshot. 
You don't trust us then do it yourself with those people who have no issues with you taking a screenshot of their snaps. Tell us in the comment section what method worked and which method failed you. We will try to upgrade our article. If you are having any difficulty with any of the above-mentioned ways to screenshot your Snap please tell us we will willingly help you with that. Be aware and use it wisely.