10 Best Procreate Alternatives for Windows
Did You touch the stylus, today? If you came here you must be a digital artist or an aspiring artist, right? Or do you want to know more about digital art in general? So, let me fill your brain neurons more. Well, above all the app or software which you will or are using to create those beautiful pictures matters. And Procreate is an app that helps your creative mind to BLOW-UP. But what if you are not so good at Procreate? As using a good app is essential for your artistic skills, getting familiar with the app is also important. Procreate has many things and so do many of the artistic apps on Windows. So, come along this much? Then keep reading if you want to know about the various software which is equivalent to Procreate for Windows.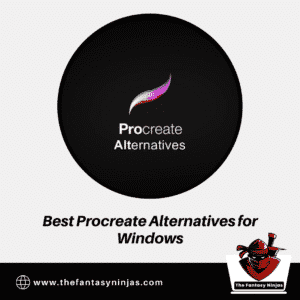 Procreate Alternatives for Windows
Starting with…
You thought I would start with Adobe, right? Well sorry to break it to you but this is also software that is equivalent to Procreate for Windows.
This app has various kinds of features starting from having numerous layers to creating some top-notch drawings. The layout of this app makes it more user-friendly will have less time to know the software than in Photoshop. In a nutshell, it is not very complicated. You can watch various tutorials and you will get the hang of it pretty soon.
You can create various illustrations, shapes, and designs. Well, talking about illustrations and digital art, you know what is more important? The line-art! And every digital artist knows that pressure sensitivity is very much needed in a brush. So, yeah! They got you covered with that.
Speaking of brushes there are various kinds of brushes too. You were talking about what is equivalent to Procreate on Windows, right? Well, this is versatile software so you can use it in your MAC too! You have many features including basic like clipping, lowering the opacity, masking, etc.
Note that this software is not free and you need to purchase it. However, there is a free trial session so make good use of that and see if the interface is comfortable for you.
This is in our list of, 'what is equivalent to Procreate on Windows?' since this app is free, not completely but free.
It has various types of brushes and also has pressure sensitivity. As said earlier, it is not completely free because of the various kinds of different features. But what is available for free, you can create awesome digital artworks with that. Over here too, you can add layers and merge them, move them. Shortly, have fun creating something.
Though this app does not have many features that are there in Procreate, keeping in mind the things that you could do in a free version amazes many digital artists who are looking for something where they could create something really good without paying for it the app.
And again, have fun creating, cause' that's important at the end of the day!
The final moment comes…
Adobe
Yes! What you thought would be in the first, right? Well, the reason why not putting this in the first is that the previous ones are not as popular as this one.
Adobe is a big company where Adobe Creative Cloud helps many digital artists, animators, graphic designers, and people who have chosen to learn more about the field.
Well, the two software which is equivalent to Procreate on Windows are listed below: –
Photoshop: – You knew this was coming. Read along…
Firstly, this would be something if you are looking for software similar to procreate on Windows.
It has various types of brushes with sensitivity. You can customize your brushes to fulfil your needs.
Overall, this software is very fun to work with. Even though it might be difficult to understand all the shortcuts for specific tools you need, slowly you will get the hang of it! So do not worry, buddy!
Clipping, masking, and you can also add layers, then blur effects anything you can think of having in procreate
As it gives us so many features, it is not free.
2. Illustrator: – This is very similar to Procreate and Photoshop. As told earlier in photoshop, this software is very much similar to Photoshop and Procreate "Then why is it there?", you may ask. Well, this program is specifically designed to create illustrations and drawings in vector form.
Vector means that the image would not be pixelated. It means even if you zoom in, the image will not fade or pixels will not be shown. It will remain as it is.
From the above examples, we can see that the more we zoom in, we can see more the pixel; this interface is from photoshop, and remember that all the adobe interfaces are not the same and may vary. The image created in Photoshop is not a vector one.
And from the above pictures no matter how much we zoom in, there is no change and no pixels are seen. This is what we mean by a 'vector' image. This feature is available in Adobe Illustrator (note that the software is not free)
Medibang : If you want to create digital comics

or

artworks

then you can go ahead with this. It is free and many features are available to create beautiful artworks or comics.
This would be the best suited if you want to create more comics without any cost.
FAQs on Best Procreate Alternatives for Windows:
What are the best Procreate alternatives for Windows?
The best Procreate alternatives mentioned in this article are – Clip Studio Paint, Autodesk, Adobe, Medibang.
Which Procreate alternatives are completely free?
Although most of the software applications mentioned in the article offer trial versions, only Medibang is entirely free of any cost. Autodesk also provides good features, though it's not wholly free.
Which Procreate alternatives provide premium features?
We recommend purchasing Clip Art Studio, Photoshop, or Illustrator to make the most of your digital skills. These offer premium features and are some of the best applications used by designers worldwide.
Which alternative is better than Procreate?
Although everything comes down to the users and their preferences, Adobe is considered to host the best tools for digital design and art. It is arguably better than Procreate, but some users still prefer to use Procreate. So it all depends on you.
Is Procreate better than Photoshop?
We mentioned that Adobe hosts the best tools for digital design and art. However, Procreate beats Photoshop to the punch in many aspects of digital art. Procreate is meant explicitly for digital drawing, so it's better than Photoshop in that area.
Final thoughts?
Well… this is subjective, if you want to create good quality drawing free of cost go ahead with Autodesk and Medibang. If you want to improve your work process then you can purchase Clip Art Studio or Photoshop or illustrator. But keep in mind that purchasable software can only improve the work process and make it easier, the thing that matters for a digital artist is to keep creating and be motivated (cause' you need it… A LOT!).